Our Showroom is open regular hours Monday through Friday.  The Showroom is open by appointments only on Saturday.  We request you make your appointments for Saturday by Noon on Thursday.    Contact us here and a salesperson will return your call.  CONTACT US
QUALITY AND SERVICE SINCE 1976
Westport Flooring is the Denver, NC area's full-service residential and commercial flooring company! We're a family business run by a husband and wife team, and since our founding in 1976, we've remained locally owned and locally operated. We offer a team of the most experienced professionals in the area, focused on flooring and interior design.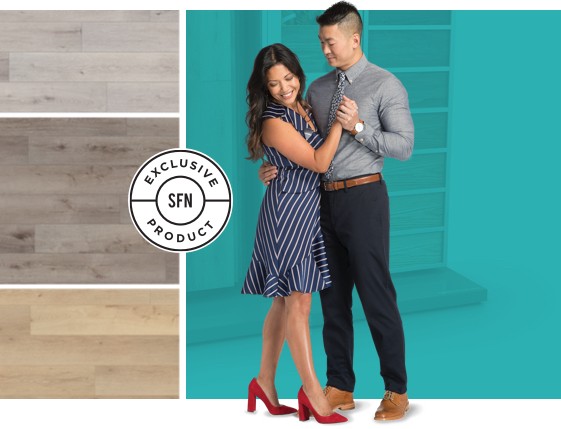 EASY TO LOVE. EASY TO SHOP.
All you love about COREtec "Original" luxury vinyl plank flooring has been curated into a special offering of 48 styles that are exclusively available at Shaw Flooring Network retailers.
Quality flooring solutions in Denver, NC
Aqua Turf Marine Carpet
We're proud to offer marine carpet from Dorsett. This marine carpet, known as Aqua Turf, is available in 12 colors, all of which are in stock at our showroom in Denver, NC. We also sell everything you need to install your new Aqua Turf, including Dorsett's recommended adhesive glue.
Window Treatments
Explore a whole world of beautiful innovative window coverings including sheers, shades, and shutters at Westport Flooring. We offer designs and styles from Hunter Douglas, Pinnacle, and Vista, some of the most trusted names in the window treatments industry.
Carpet Binding
Looking for a unique area rug style? Create your own custom rug using our in-store carpet binding service! We'll bind carpet from our catalog to your exact specifications so you can have the perfect rug for your space!
Design consultations
At Westport Flooring, our design consultants are expertly trained and ready to help you incorporate style and function into each and every room of your home. 
Request a free measure
Starting your next flooring or home improvement project? Get a free in-home measure from the experts at Westport Flooring first! Know exactly what to expect before you get started, with recommended advice and accurate estimates.